Changing the world, one Swift playground at a time – Discover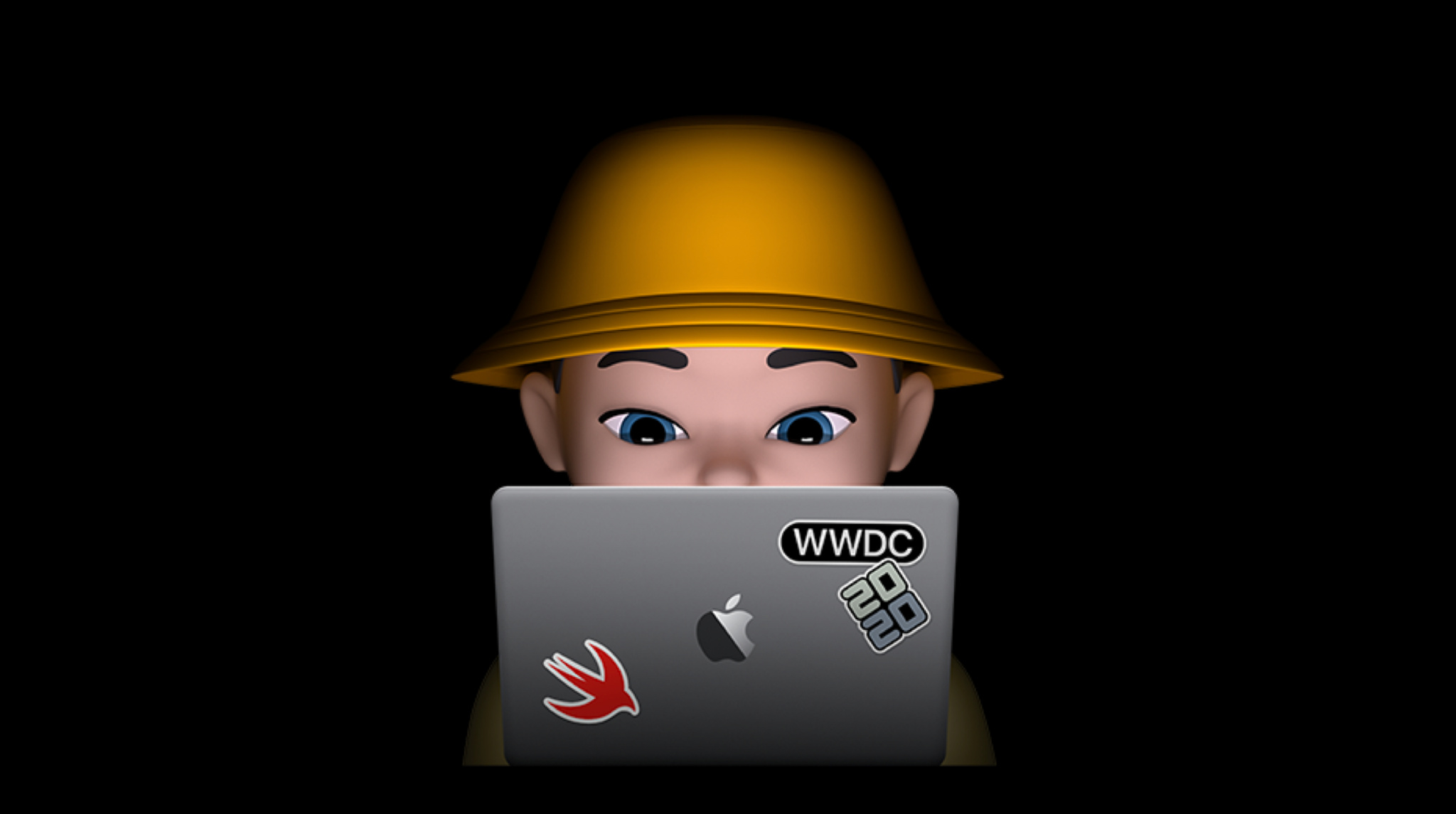 Earlier this year, students from all over the world put their passion, ingenuity and determination into working on developing Swift playground projects for the WWDC20 Swift Student Challenge. Students from 60 different countries and regions put their talent on the table, using the three-minute limit of the challenge to stretch their imagination and explore Apple's frameworks and technologies. The 350 winners of the Swift Student Challenge have created RA experiences, projects driven by machine learning, educational materials, virtual musical instruments, 8-bit games and more.
Swipe to unlock
In 2019, after studying for only one month at the Apple Developer Academy in Porto Alegre, Brazil, Henrique Conte presented his first Swift playground project. Although he did not win a WWDC Fellowship that year, the experience prompted him to continue exploring and refining his code.
"This year I thought that after reading and studying about so many different frameworks from Apple, I should try to get the WWDC19 main phrase, 'Write code. You want the mind,'" he told us. Its winning presentation, a three-minute game designed for the MacBook Pro's Touch Bar, stands out for its technical sharpness and creativity.
Inside the yard, players must help Eleanor, a young developer, escape from a cave. The twist: the "cave" level is completely inside the Touch Bar. "I chose to use unusual frames to show that it's possible to do amazing things with them," Conte said. "I feel that [the Touch Bar] it has a lot of potential yet to be discovered, and I wanted to demonstrate some of its capabilities. "
Although never before developed for macOS, Conte immediately accepted the challenge. How to learn any new development concept, encountered some initial hurdles: "when I received the message" There is no such module 'UIKit' [after trying to add it to my project] I realized things would get interesting, "he joked, but quickly picked up the basics of Mac programming, using AppKit and SpriteKit to create a fully interactive experience, including taps, slides, keyboard integrations, and multiscreen storytelling. He also paid close attention to design, which is becoming more and more important to him.
"I'm definitely not a designer," says Conte, "but in recent years I've come to realize how essential it is to follow Apple's human interface guidelines and provide great experience. if people are having trouble using your app!
You can find more of Conte's work in the App Store: in the last year, she's created four apps, including one to help children with autism communicate. He is currently working on his next project, which he is building for both iOS and macOS, which addresses the issue of food waste. And, please note, the macOS version will incorporate the Touch Bar.
The world turned upside down
Louise Pieri, 21, fell in love with computers at a young age in Lyon, France. Since then, he has studied at the École 42, the programming school founded by French businessman Xavier Niel. Pieri's winning project, Meep, was inspired by an article she read in a scientific journal about the possibility of parallel universes, as well as her own personal journey as a transgender woman.
"Meep is a game with two levels: the first is a level where everything is upside down and upside down and the second is where everything is normal," says Pieri. "The story is about a little blue transgender monster who wants to get to the final level and turn pink … it's a beautiful metaphor for what happens in a trans person's life."
Although Pieri had never used SpriteKit or AVKit, he knew he wanted to create a game for his presentation on Swift. He spent two days brainstorming before landing on the Meep concept and immersing himself in the frames and interface. Initially, I was hoping to show both Meep universes on the screen at the same time before deciding on a multi-level experience, including an entire level upside down.
In addition to designing and coding the game, Pieri also created his own 2D artwork for each level in Adobe Illustrator and a story for the game, all in less than two weeks.
Pieri has been tuning in to the WWDC20 this year from France and is especially interested in learning more about the future of Apple platforms. "I can't wait to get to know iOS 14," he says. This will be useful for your next project: bringing a version of Meep to the App Store.
A robot of its own
Devin Green's love of development arose from a lifelong fascination with thinking machines. "I've always been scared of artificial intelligence," he told us. From this idea, the winning project of the 18-year-old, an AI bot named Stanny, was born.
"With everything going on in the world right now, I thought that isolated people might find it beneficial for their mental health to talk to a capable AI partner," he said. Green, who will be attending Stanford this fall in computer science and engineering, took about a week to build his yard, most of the time spent perfecting the machine learning models that created Stanny's "intelligence."
"The model trained in a data file made up of all the things you could tell Stanny," Green said. After investigating how the others had trained the chat bots, Green created his own model in TensorFlow and took it to his Xcode playground using Core ML Converters.
While no stranger to experimenting with machine learning models, Green used this project to learn more about Apple's ML offerings. "I wanted it to be as easy as possible to move from data to usable artificial intelligence," he told us. He worked with NSLinguisticsTagger to create a working model, then created a Core ML model generated to predict the person's intention from their query, and designed their yard in SwiftUI.
Green sees Swift as the future of machine learning and AI applications. "Swift is not only a really simple and easy to use language, it's also very broad," he told us. "It can be built in such a way that [it] he can do almost anything. "
Stanny isn't so complete: his prank-loving AI is limited to just 63 different intentions. But Green has big plans, and can't wait to incorporate some of the technology announced at the WWDC20. "The natural language framework is amazing," he told us. "If I had any questions about using Swift for machine learning, they quickly disappeared as I watched a natural language processing application understand text with about five lines of code … projects I created, like Stanny, they are about to improve 100 times! "
Code as design
For first-time winner Renata Pôrto, the challenge gave her a chance to face her own doubts. "As a designer, I've always felt insecure about my ability to code more complex ideas," she said. After two unsuccessful performances at Swift in previous years, the 21-year-old student at the Federal University of Pernambuco in Recife, Brazil, had again decided to apply. But after a few days of work, he dropped the project.
"I wasn't happy with my own decision to pursue a' safe 'idea," he told us. Instead, he began to consider concepts he wanted to learn about but had not yet explored, including generative art. "One of the things I've always found fantastic about programming is the ability to transform lines of code into visual and interactive experiences," he said. Just six days later, he came up with Polar Patterns, a Swift playground that helps people learn more about math roses and generate their own visual art.
"With SpriteKit, I was able to convert the polar equation of mathematical roses into SKShapes, transforming the results of the formula into visual elements," he said. Pôrto designed only two images herself, based on her algorithmic code and some UIKit elements to create the whole visual experience.
Designing a fully programmatic art interface was a game for Pôrto. "I'm very used to prototyping before programming," he told us. This project, however, involved the creation of an experience that would change and change dynamically depending on the actions someone took within the courtyard, so it was important that Pôrto constantly visualized and experimented to perfect his interface.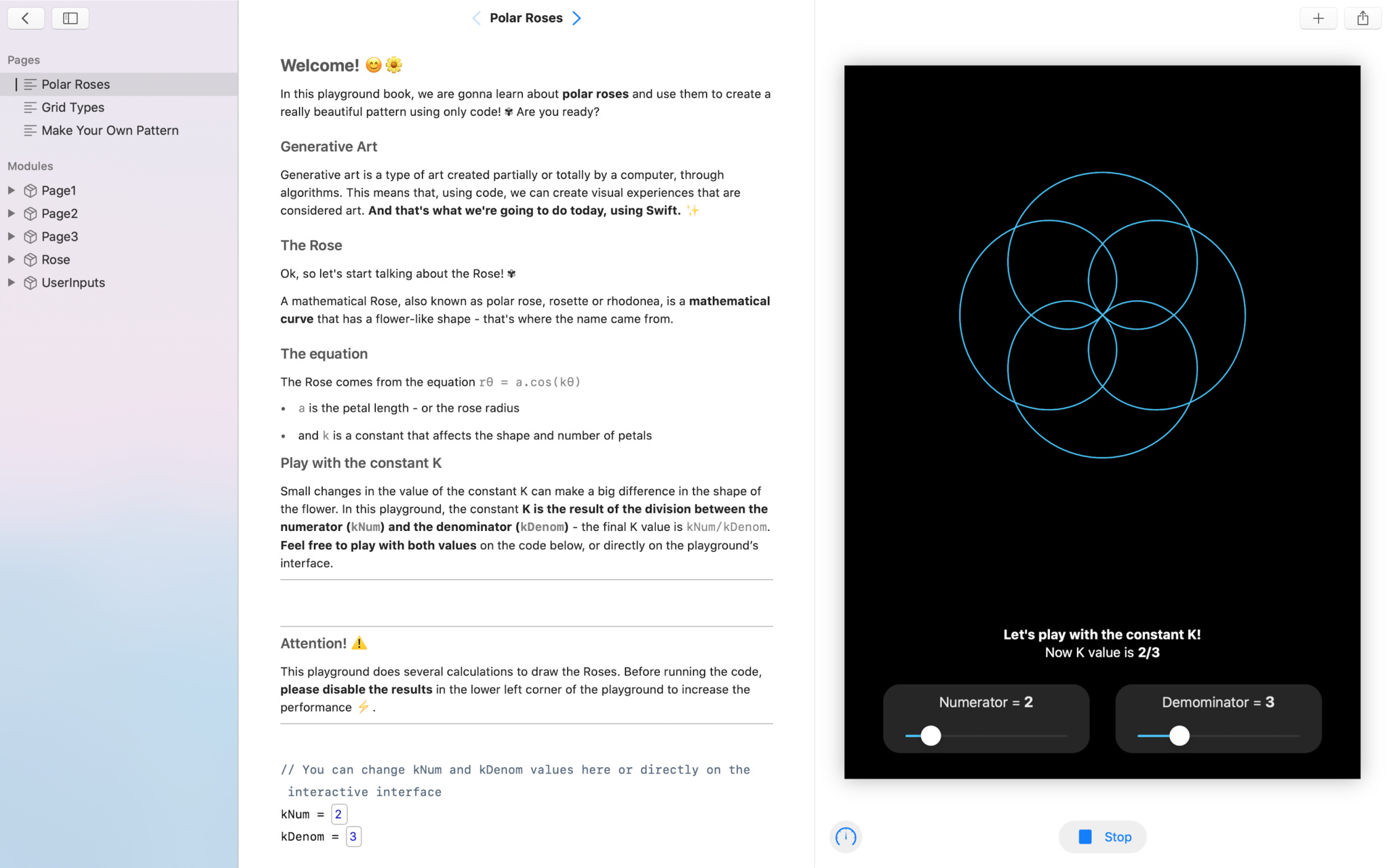 The result brings the beauty and complexity of polar roses to a Swift playground and made Pôrto a winning presentation. "It's a great joy to learn about development, even though I'm a design student," he told us. "Studying design helped me to practice my empathy [people] and to know what resources to use and how to work on them to achieve better results ".
This empathy continues through her work with a group of local developers, creating educational tools for new developers in her community. "I always try to pass on my design knowledge to developers and my developer knowledge to designers," he said. "And hopefully one day they will make products that make a difference in other people's lives."
---
Learn more about Swift Student Challenge winners.
The winners of the Swift Student Challenge are determined to shape the future
App Store: Meet the winners of the Swift Student Challenge