Dynamsoft SDK Improves Performance and User Experience With Re-designed Mobile Document Capture Workflow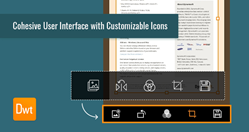 Attending different document scanning workflows for businesses is easy.

VANCOUVER, British Columbia (PRWEB)
July 7, 2022
Dynamsoft ™ has updated its document capture software development kit – Dynamic Web TWAIN – to allow developers to create a more customized document scanning web application. When capturing an image, it can be cropped automatically if edge detection is enabled. First the crop viewer opens or the main viewer opens where users can edit the image manually by clicking the crop, rotate or look at the icon. Attending different document scanning workflows for businesses is easy.
Built-in image filters improve the image quality of captured documents for different usage scenarios, such as the clean mode that produces a clean document image by removing shadows. Applying the Save Toner filter reduces ink usage when printing the document. The black and white filter binaries the image that can be easily used for further image processing or to reduce file size.
This new version also made an improvement in document viewer customization by adding, removing any built-in icons, or modifying the size, color, and style of the icon. When they embed the Dynamsoft document scanning module in a web page, developers can create a more cohesive user interface to suit the style of their website. The enhanced user experience also extends to keeping a copy of the original image in case a user needs to start editing from scratch.
To get started with deployment you can do it in a handful of steps. Developers can download and install Dynamic Web TWAIN version 17.3 from the Dynamsoft website, including a trial version. A 30-day trial license can be activated by copying the license key code to the provided JS file and then copying the related code and file to the static resources folder of a web project.
About Dynamic Web TWAIN

The Dynamic Web TWAIN SDK provides support for scanning documents between browsers and platforms for web applications. Developers only need to write a handful of lines of JavaScript code to allow scanning, loading, editing, and processing of documents. Otherwise, this turns months of work into just days. The SDK works with Android®, iOS®, Linux®, macOS® or Windows® devices.
Price and Availability

Dynamsoft Dynamic Web TWAIN version 17.3 SDK is now available. It can be purchased and downloaded from the company's website. The company also offers Dynamic .NET TWAIN to develop scanning and image capture components for desktop document management applications. A Dynamsoft Barcode Reader SDK is also offered to create barcode reading applications. Finally, a Dynamsoft tag recognition SDK provides a quick way to locate and extract key data to regular store or warehouse tags using OCR. Full pricing information can be requested on the website. Several award-winning technical support channels are offered with an SDK purchase that include email, live chat, web meeting, and phone.
About Dynamsoft Corp.

Dynamsoft Corp. offers enterprise-class TWAIN ™ software development kits (SDKs), a barcode reader SDK, and a tag recognition SDK to help developers meet document imaging, scanning, code reader requirements of bars and OCR extraction applications when developing web, desktop or mobile document management and tag reading applications. Image SDKs help current companies looking to migrate from wasteful paper-based workflows to efficient management of paperless electronic documents and records. Thousands of customers use Dynamsoft solutions. Customers include 3M®; EMC®; FUJIFILM Medical Systems USA, Inc .; Fujitsu®; GE®; H&R Block®; HP®; IBM®, Intel®; Infosys®; Lockheed Martin®; Olympus®; Philips®; PricewaterhouseCoopers®; Samsung®; Siemens®; Symantec®; Unisys®; Verizon®; and more. Dynamsoft is an ISO 27001 certified organization and an associate member of the TWAIN working group that develops TWAIN standards. The company was founded in 2003. More information is available at http://www.dynamsoft.com.
Note: Whether indicated or not, references to certain words may be trademarks or registered trademarks of their respective owners.

Share the article on social media or by email: