ETRI promoted the 8K-UHD technology in NAB S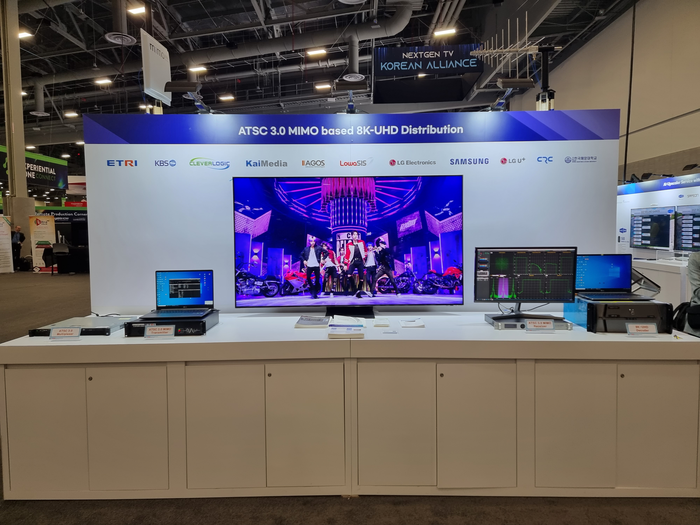 An ETRI research team unveils 8K-UHD media service technology that meets U.S. broadcast standards worldwide. With the introduction of home technology in the fields of next-generation ultra-high-resolution television transmission and communication, the team is expected to lead the global 8K-UHD market.
The Electronics and Telecommunications Research Institute (ETRI) has announced that it will participate in the world's largest National Association of Broadcasters (NAB) 2022, to be held at the Las Vegas Convention Center in the United States for four days. from 24, and we present the latest 8K-UHD and 5G convergence media transmission technologies.
8K-UHD is a screen of over 33 million pixels. Because its resolution is 4 times higher than 4K and detailed video expression is possible, it is considered the leading ultra-high resolution technology. In addition, as the transition to the 8K media era is becoming faster, so does the need to develop streaming and media technologies to deliver a seamless 8K-UHD service.
The ETRI technologies revealed in this exhibition, along with Korean broadcasting equipment companies, are based on ATSC1) 3.0.
These are essential technologies for providing 8K-UHD service, such as MIMO2)8K-based service technology that uses radio frequencies efficiently, OTA / OTT3) 8K converged service technology that provides real-time streaming and 5G-MBMS4) broadcasting system that provides terrestrial broadcasting service to numerous users.
MIMO is a technology for doubling the transmission capacity of existing channels by applying two antennas vertically and horizontally to the transmitter and receiver, respectively, without adding a frequency resource.
Because it is an innovative technology to enable high-volume transmission of 8K media using the existing frequency effectively without assigning an additional frequency, the world is paying attention to it. It is fully compliant with ATSC 3.0 standards and resolved signal interference issues due to antenna combination.
In addition, the ETRI research team demonstrated an 8K-UHD real-time transmission service using a MIMO transmitter / receiver that complies with the ATSC 3.0 standard, the US terrestrial broadcasting standard.
The technology introduced by ETRI in this exhibition is pure Korean technology developed through long-term joint research with broadcast equipment companies such as KBS, CleverLogic, Kai Media, AGOS and LowaSIS.
Madeleine Noland, head of ATSC, said: "I am confident that 8K-UHD service technology based on ATSC 3.0 and 5G convergence media service technology introduced by ETRI will shed light on the path for future broadcast." .
In addition, Seung-chan Bang, director of the ERI Media and Media Research Center, said: "We will make full use of this NAB 2022 as an opportunity to promote the excellence of the Korea's 8K-UHD broadcasting and 5G convergence media services technology as well as leading the global expansion of Korean enterprises. "
In the future, the ETRI research team plans to secure the technical basis to see 8K ultra-high definition broadcasts improving the source technology. In addition, the team plans to continue additional R&D for marketing and standardization as the 8K market expands.
ETRI Broadcasting Technology won the "Technological Innovation Award" for its contribution to the development of HD and 4K-UHD mobile service transmission technology at the 'NAB Show 2015' in 2015. 'this award, this technology has won the best prize for the thesis of the IEEE Broadcast Technology Association magazine, numerous awards for the best thesis of the conference, etc.
1) ATSC (Advanced Television Systems Committee): a standardization organization that creates digital broadcasting standards in North America
2) MIMO (Multi Input Multi Output): Wireless transmission technology that improves the speed of data transmission by applying two or more transmitting and receiving antennas.
3) OTA (Over The Air) / OTT (Over The Top): VOD like Netflix and Tving, and public television broadcast that offers real-time streaming service
4) MBMS (Multimedia Broadcast and Multicast Service): 3GPP terrestrial media service technology
###
The research was carried out with the support of the South Korean Ministry of Science and ICT, such as 『Technological Development for High Quality UHD (UHQ) Transmission』, 『Development for Convergence Transmission 5G and broadcast network (ATSC 3.0) and core technology 』and『 technology development for scalable service transmission for 8K class transmission 』.
---
Disclaimer: AAAS and EurekAlert! is not responsible for the accuracy of news releases posted to EurekAlert! by contributing institutions or by the use of any information through the EurekAlert system.