Huawei and ZTE are now banned in Canada over cybersecurity concerns
Update (May 20, 9:00 am ET): Huawei has provided a statement on Canada's decision.
What you need to know
Canada has announced that it will ban Huawei with 5G technologies.
Huawei has been described as a "high risk" seller.
ZTE is also included in this trade ban for the same concerns.
It's only been three years since Huawei was officially blacklisted by the U.S. government over concerns about the company's network equipment. This comes as a result of the ongoing trade tension between the US and China, and now it seems that Canada is finally deciding to join the party.
In a Bloomberg report, Canadian Prime Minister Justin Trudeau is approaching a final decision that would cause our northern friends to also ban trade in Huawei. The consequences would be similar to those faced by Huawei and its users in 2019, although without such a big reaction.
The report goes on to say that Canada has "delayed the decision" in an effort to avoid provoking or "fueling tensions" between Canada and China. Relations between the two countries have continued to deteriorate in recent years, as evidenced by the arrest of Huawei's chief financial officer in 2018. In return, China responded by imprisoning former diplomat Michael Spavor and businessman Michael Kovrig. .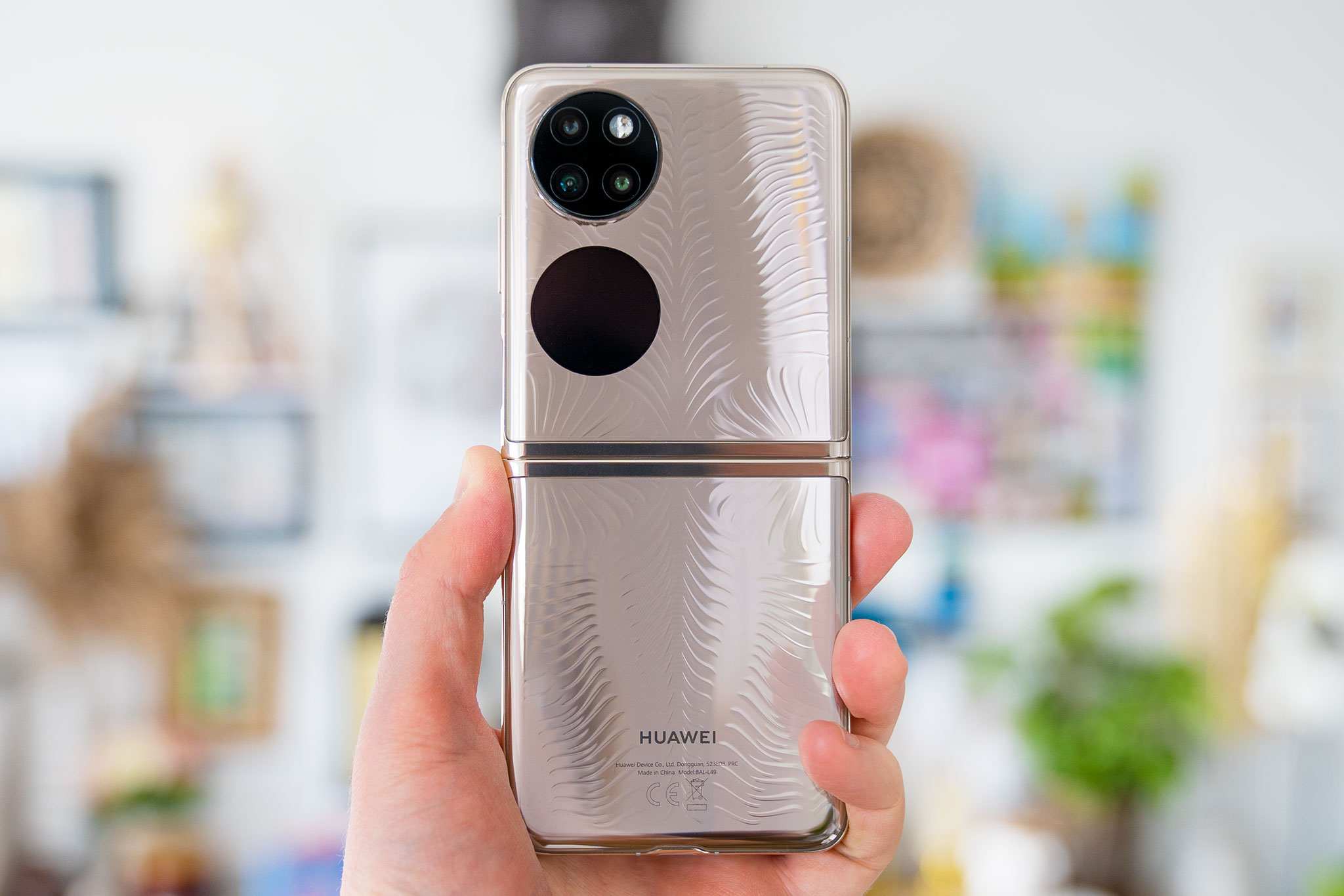 Shortly after the report was released, Marco Mendicino, Canadian Minister of Public Safety, and François-Philippe Champagne, Canada's Minister of Innovation, Science and Economic Development, held a press conference to confirm the decision. But these officials have also confirmed that ZTE is included in the trade ban for the same cybersecurity concerns.
The following statement was made during the press conference:
We announce our intention to ban the inclusion of Huawei and ZTE products and services in Canadian telecommunications systems as follows a full review by our security agencies and in consultation with our closest allies.
Let me be clear: we will always protect the safety and security of Canadians and take the necessary steps to safeguard our telecommunications infrastructure.
Canadian telecommunications companies will not be able to include it in their networks, products or services that endanger our national security. Vendors who already have this equipment installed will have to stop using it and remove it according to the plans we announced today.
When asked why it took Canada three years to make that decision, Champagne gave the following answer:
I would say this has never been a race. It's about making the right decision. It is about providing a framework to protect our infrastructure and I would say that in a 5G world on the Internet of Things at a time when we are increasingly relying on our daily life of your network. This is the right decision.
Tensions between the two countries continued to rise until the US intervened with a "deferred processing agreement with Meng". But now it seems that the relationship between Canada and China can no longer be resolved, with Huawei stuck in the middle.
We can expect to see a final result similar to what happened here in the US. Without drawing too many conclusions, it would be fairly safe to assume that the sale of 5G-enabled Huawei phones would no longer be allowed.
This would be another blow for Huawei, which has experienced a rapid decline in worldwide sales, including in Canada. In 2018, Huawei claimed to have earned sales revenue of about $ 428 million, which could be considered a high point. At the time, Huawei had only been selling phones in Canada since 2016 and was nearing the launch of the Huawei P30.
However, a recent report of the mobile vendor market share for Canada shows an immediate decline in December 2021. The company's market share went slightly above 5% in December , at about 2.03% in April 2022. For reference, this report shows that Google has approximately 3% market share in April 2022, following the launch of its popular phone line. Pixel 6 and 6 Pro in the fall of 2021. But perhaps even more serious is that Huawei's market share is also below that of LG, which completely abandoned the smartphone market in early 2021.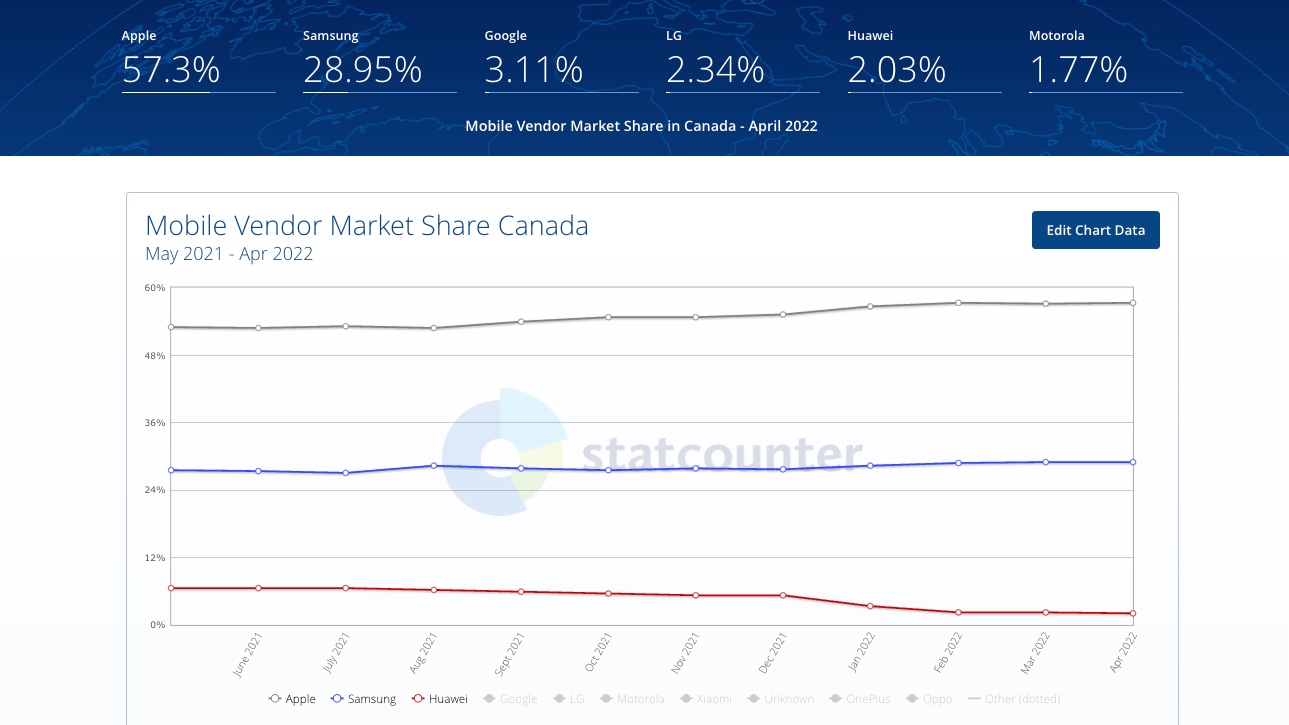 With the U.S. trade ban in effect, Huawei unveiled its revenue for the first half of 2021 in August last year. The company's overall sales had fallen by almost 30% year-on-year, and the consumer business fell by almost 50% year-on-year.
Huawei has tried to persevere with the various trade sanctions, which prevent the company from buying 5G chips and related technologies from companies based in the United States. As is well documented, Google also ruled out the possibility of Play Services being used on Huawei phones. This means that you cannot access, download or install any Play Store or other Google services applications on these devices.
Most recently, Huawei introduced its latest folding phone, the Mate Xs 2, which features an exterior folding design, as opposed to an interior folding design as seen in something like the Galaxy Z Fold 3. Unlike Samsung, Huawei cannot use any 5G. processors enabled, and instead have to rely on a special 4G-only version of Qualcomm's Snapdragon 888.
Update
Following yesterday's announcement by the Canadian government, Huawei Canada has made the following statement.
Huawei Canada is disappointed with the Canadian government's decision. This is an unfortunate political decision that has nothing to do with cybersecurity or any of the technologies in question.
For the past 13 years, Huawei Canada has been dedicated to helping Canadian operators build their wireless networks and provide quality services to the Canadian people. The government and its security agencies have routinely and closely reviewed Huawei's equipment, both hardware and software, in accordance with strict quality standards. Throughout this period, there have been no security incidents caused by Huawei computers. We are proud of our security record in Canada.
The ban on Huawei's equipment and services will result in significant economic losses in Canada and increase the cost of communications for Canadian consumers. Unfortunately, this decision is beyond our control as a company. However, we will do our best to protect the legitimate rights and interests of our customers, partners, and ourselves. We thank all of our Canadian partners, customers and consumers for their continued support and look forward to contributing to the future deployment of the network in Canada when conditions allow.