Senator Collins Visits Houlton's Region …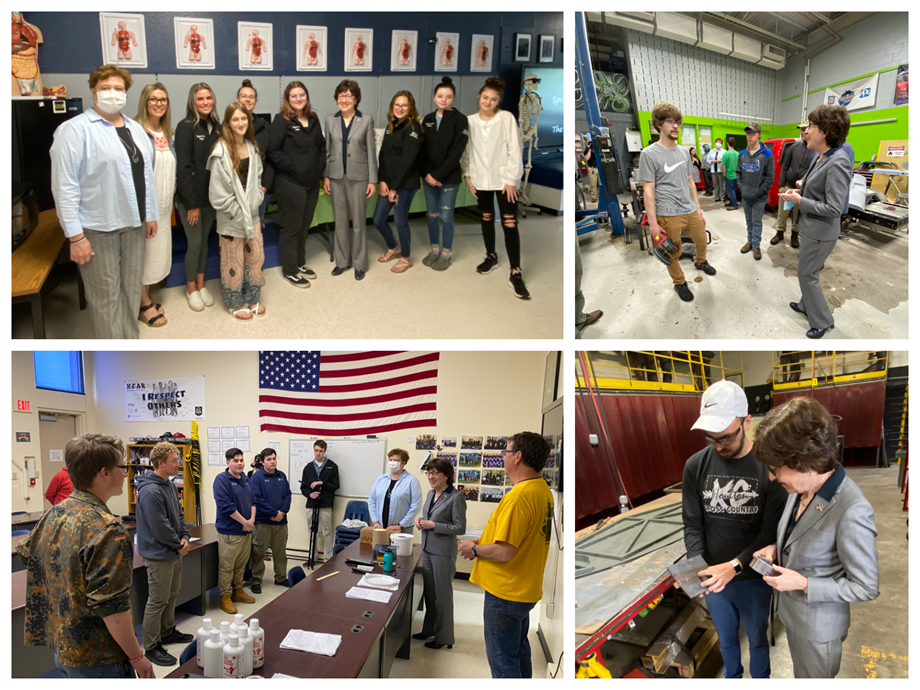 Houlton, ME – Today, U.S. Sen. Susan Collins visited the Region Two School of Applied Technology in Houlton. Senator Collins received a tour of each classroom to learn about instructors, support staff, and students and their individual programs, which include: culinary arts, welding, law enforcement, residential electricity, plumbing and heating, technology automotive, car collision, prime. early childhood education, certified nursing assistant (CNA), phlebotomy and forestry.
"Job training programs are proven and successful tools that help young people prepare for rewarding careers in high-demand fields." said Senator Collins. "I enjoyed going to Houlton Region Two Applied Technology School and learning about the awesome programs that help students acquire the skills they need. These practical job training programs simultaneously open the door to high-paying jobs for students, while helping to address labor shortages by making it easier for companies to find skilled workers. "
Houlton Second Region School of Applied Technology serves 9th through 12th grade students with a good academic position from five home schools (East Grand, Hodgdon, Houlton, Katahdin and Southern Aroostook). Students have the opportunity to gain technical skills, certifications ready to work and university credits in the chosen career fields. Due to the large geographic area served by the Second Region, students attend the CTE program every two days and the home school on alternate days. There are currently 177 students attending the Second Region from 32 surrounding communities.
Senator Collins is a staunch supporter of funding for Vocational and Technical Education (CTE) programs, which are proven successful tools that help people acquire the skills they need for a rewarding career. As a senior appropriator, she helped raise $ 1.38 billion for Perkins CTE state grants in the 2022 fiscal year bus funding law, including $ 6.72 million for Maine. These grants are critical for high schools, community colleges, small businesses, and students who need training opportunities to help reduce the skills gap in the workforce.
Last year, Senator Collins introduced the Law on access to professional careersbipartisan legislation that would support partnerships between technical and community colleges and labor force development partners, such as state labor force development boards, industry associations, and community organizations.
###