TATEEDA Named One of San Diego's Top Technology Solutions Providers Five Consecutive Years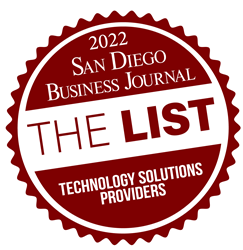 "Recognition of the 2022 List honors members of our globally assigned teams who are innovative and are redefining what it means to be a global leader in the web software development industry," said CEO Slava Khristich.

SAN DIEGO (PRWEB)
July 6, 2022
The custom software developer, TATEEDA, announced today that the San Diego Business Journal has recently recognized the Ukrainian-owned company on its 2022 list of technology solution providers for the fifth year in a row.
The San Diego-based software solutions company has a globally distributed team with more than half of its developers in Ukraine. CEO Slava Khristich said members of his Ukrainian team have continued to work in serious circumstances and that the company has continued to provide them with work and funds. In addition, customers around the world and the San Diego community have also increased their support.
Since its founding in 2013, TADEEDA has achieved sustained growth and expanded globally with a remote R&D branch in Eastern Europe and team members in Ukraine, Latin America, Mexico, Colombia, Brazil, Argentina, India, Romania, Switzerland and the Netherlands. Taking into account the income of its foundation, the company has achieved a year-on-year growth of 30%.
Over the past three challenging years, the company has achieved its growth using its extensive resources to develop customized software solutions for various industries, specializing in healthcare technology, biotechnology, laboratory management systems, pharmaceutical business software and solutions. IoT, including the integration of patient remote control tools and intelligent laboratory machinery.
"Being one of San Diego's leading technology solution providers for five consecutive years says a lot about our commitment to managed growth and high-quality software solutions," said Slava Khristich, CEO of TATEEDA. "I would like to express our gratitude to the San Diego Business Journal for its continued support of the business community with its Book of Lists and Leadership Awards. Recognition of the 2022 List definitely honors our team members assigned to They are innovative and are redefining what it means to be a world leader in the web software development industry. "
For more information about TATEEDA, visit https://www.tateeda.com.
About TATEEDA LLC

Founded in 2013 and headquartered in San Diego, California, USA, TATEEDA is a global provider of custom software development and augmented computer equipment services. Build on-demand software products, including all stages of software design, development, and testing, with experienced software development specialists working as a dedicated team or joining an existing project under a staffing increase model. The company specializes in web development with Internet and Intranet applications. His work supports cutting-edge popular platforms to produce an efficient and cost-effective solution for customers. TATEEDA applications involve complex architectural designs, critical thinking, and sophisticated methodologies to deliver quality products. For more information, visit http://www.tateeda.com.
Share the article on social media or by email: